they said it…
I love my clients and nothing makes me happier than hearing how much they love their wedding photographs! Read on and hear what they have to say about them…
The Garratt Family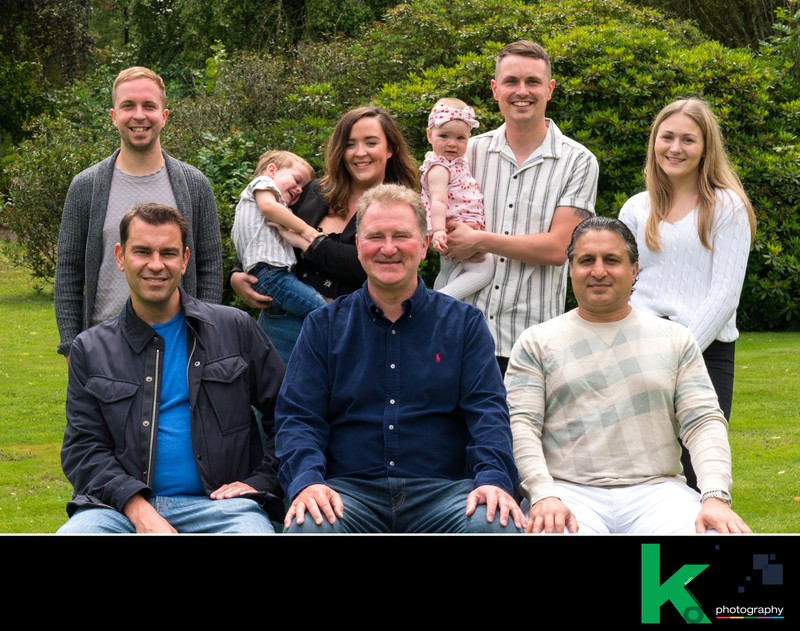 "Kath undertook a formal photo session of our "Family & Friends" get-together at the Delta Marriott Hotel in Preston at relatively short notice.
Kath expertly organised the various combinations of people which included two infants, one of whom was somewhat camera-shy!
With a great deal of skill and patience, Kath was able to guide everybody into place at the right times and created a natural ambience which provided a relaxed atmosphere.
We were absolutely delighted with the range of images which Kath provided and which perfectly captured the joyful ambience of the afternoon."
James Garratt
Julie & Ian - Poulton Civic Centre 10th October 2020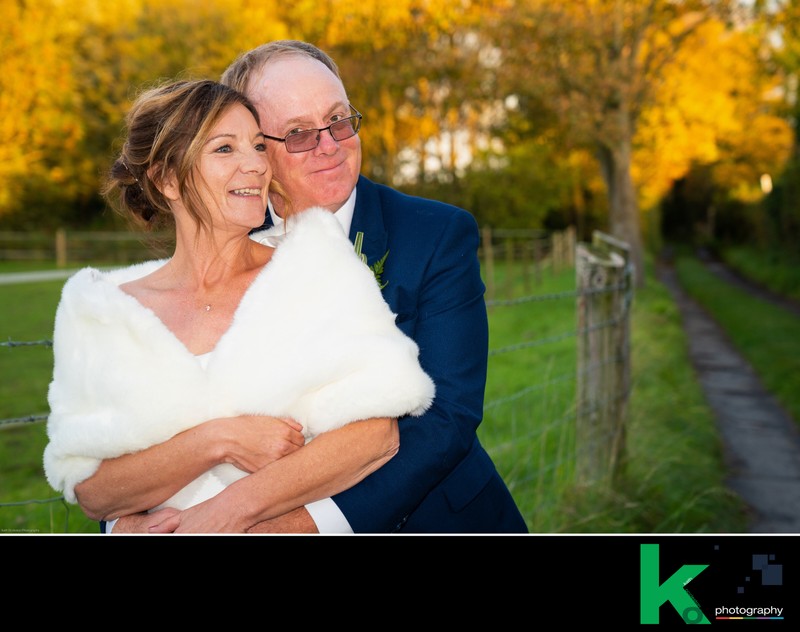 "We were originally due to get married on 28/3/2020 but had to cancel due to the pandemic. Kath was very understanding when we had to reschedule, as were all the suppliers involved.
I think we both knew immediately after meeting her that we wanted Kath to take our photographs. We went ahead with our wedding on 10/10/2020 with just 13 guests. Although those who could not attend were sorely missed, our day was relaxed, intimate and joyful and Kath's photographs demonstrated this beautifully. She was very warm but professional and a welcome addition to our day.
We strongly recommend he".
Julie & Ian Irwin
Ros & Jason - Singleton Lodge, Poulton, 18th February 2020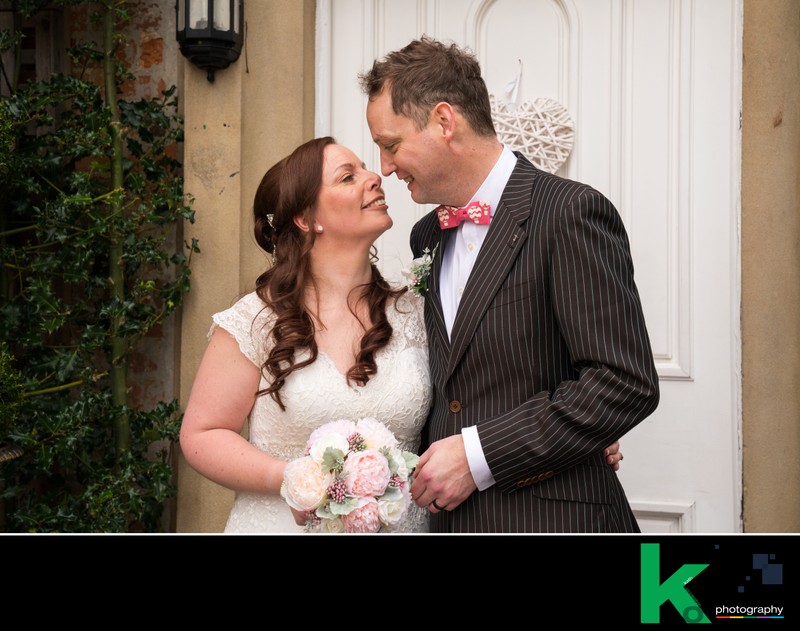 "FANTASTIC DAY 🥂
My fear that photos can appear stilted & stuffy was completely swept away with Kath.
We deliberately went to a few wedding fairs and met several photographers but Kath's manner and approach to both us and her work stood out from the rest.
She was calm, approachable, and made sure that we had meetings/conversations so she could understand everything we wanted.
The result was a fantastic set of photos, beautifully presented, that has helped give us some lasting memories that we adore 😍
Thank you Kath x
Ros & Jason 🙂"
Sam & Dominic - Peckforton Castle 9th June 2019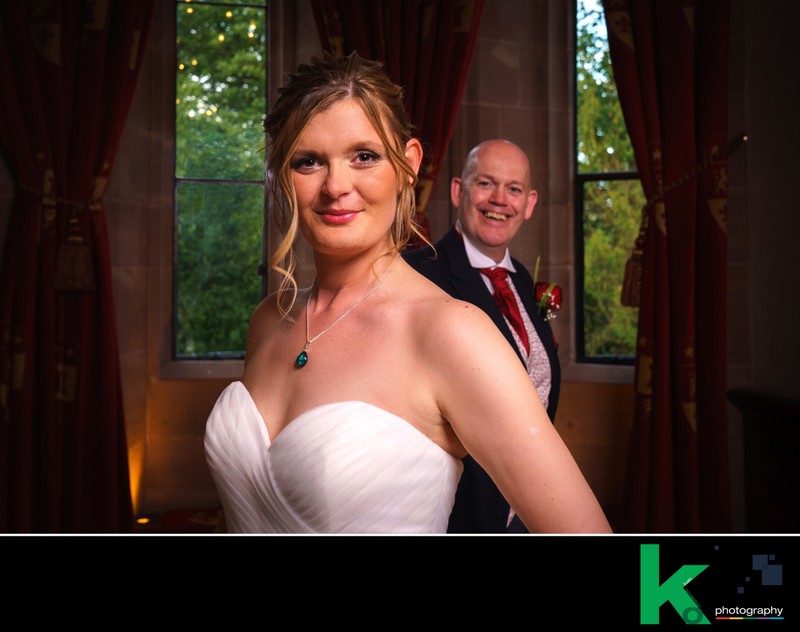 "The memories Kath has provided us with are spectacular. The whole expirence is relaxed and catered to your needs! I would highly recommend her to be part of your day.
Thank you."
Sam & Dominic
Beckie & James - The Glendower Hotel, St Annes on Sea. 10th August 2019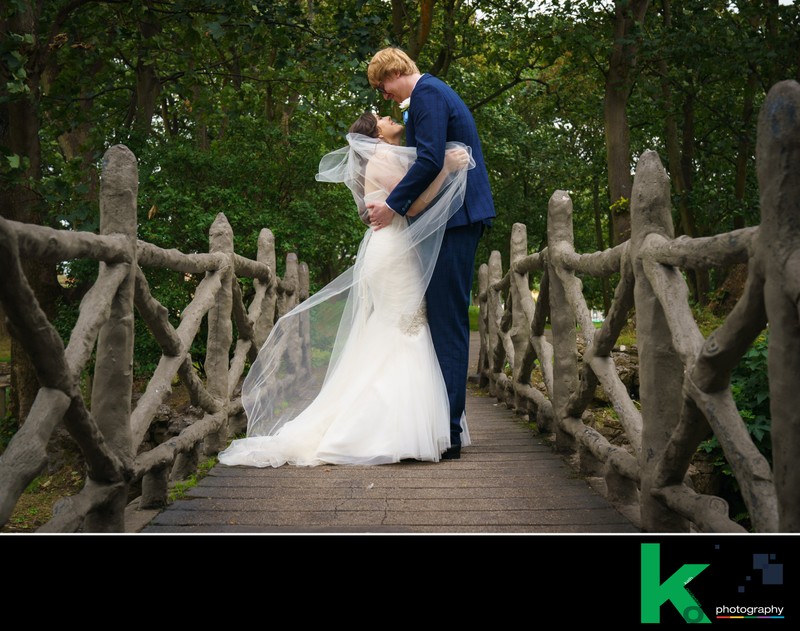 "Couldn't recommend Kath Occleston enough. Leading up to the day she made sure we were organised and prepared and knew exactly what shots we wanted from the day. She put us completely at ease and ran through everything so we knew exactly what to expect.
On the day, you wouldn't have known that Kath and Wayne were there. Completely discreet when necessary but she was also able to get our guests organised for the group shots.
Afterwards, the beautiful slideshow and images confirmed we had 100% made the right choice for our photographer. We're so grateful for the images we now have forever and can't thank you enough.
10/10.
Thank you!!"
Beckie & James
Louise & Andrew - Charnock Farm, Leyland. 18th May 2018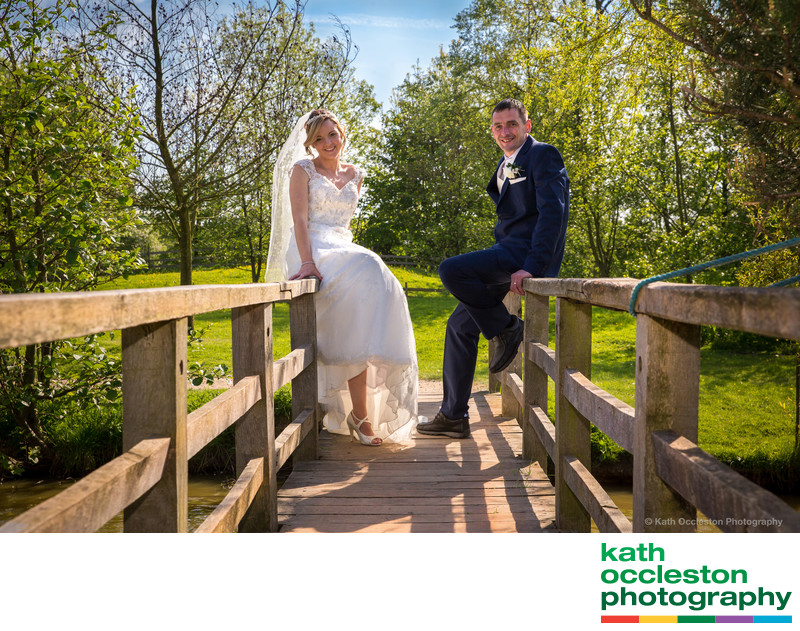 "We first met Kath at a wedding fair. I knew straight away she was the one to take my wedding photos. Kath has such a lovely personality and is very friendly and is very interested in what you want on your big day.
When Kath and Russell turned up on the day they where very professional and friendly and made everyone feel comfortable and took the perfect shots. I couldn't of asked for better photos.
Even after the wedding Kath was really helpful she printed some of my pictures on to Acrylic which are fantastic and everyone admires. Kath and Russell did a brilliant job and I can't thank them enough. They impressed my family members that much that my cousin has also booked for her special day. I would definitely recommend Kath".
Louise & Andrew
Natasha & Rob - Ribby Hall, Wrea Green. 25th February 2017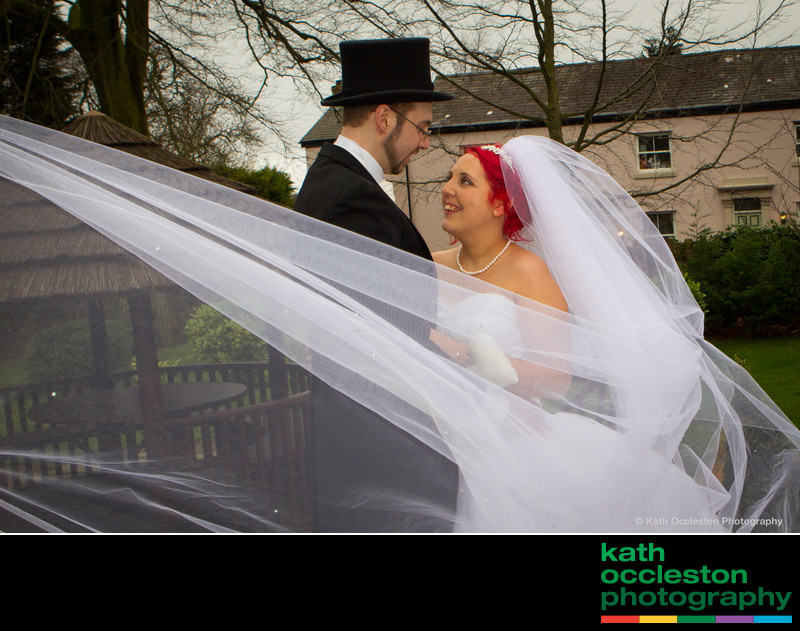 A wonderful person and awesome photography.
We met Kath at a wedding fair where her display stood out from the others. Her warming character and stunning display drew our attention to her photography immediately. We haven't looked back since. The photographs are wonderful and the album amazing. We couldn't have asked for a better photographer to cover our wedding with the results speaking for themselves. The album is a masterpiece and we love showing it off whenever we can, and the photos are amazing works of art.
Kath's warming personality also helped make the planning/pre-shoot meeting so much more comfortable letting us relax around her and really be ourselves. This shows within the photos that were taken throughout the day.
Thank you, Kath, we couldn't have asked for anything more!!
Lots of love Natasha and Robert Critchlow
Rebecca & John - Gibbon Bridge Hotel, Chipping, Lancashire. 2nd June 2018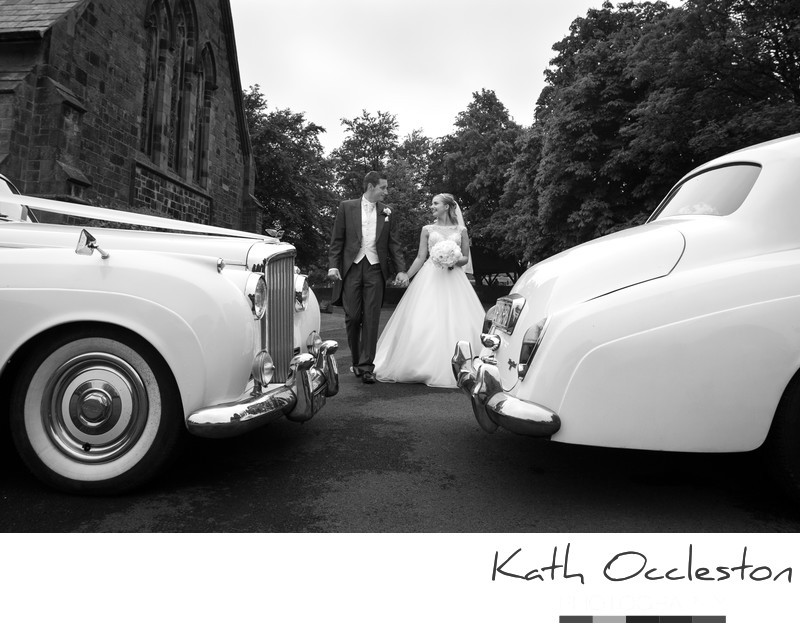 I first met Kath at a wedding fair. Not only did her photographs give me goosebumps but her warm personality and passion shone through. I just knew there and then that I wanted her to be our wedding photographer.
The whole process has been enjoyable and exciting. She made us feel like we were the only wedding in her diary. Kath has always been there to answer any questions and we have had numerous meetings leading up the big day to discuss every detail. We had a fantastic pre-wedding shoot at Williamson Park in Lancaster and Kath helped us to relax into being photographed. We didn't realise how important this was and we were so pleased with the beautiful photographs that we got in return.
On our big day, Kath and Wayne were so professional, working alongside others to ensure our day ran smoothly. It was also so nice to have them with us all day. We were over the moon with our wedding photographs and it was clear to see that 100% had been given to make sure every moment had been captured.
We cannot thank Kath Occleston Photography enough and would highly recommend to all future brides and grooms out there.
Love Rebecca and John Blahuta x
Gemma & Kurt - Oak Royal Hotel, Chorley. 8th April 2017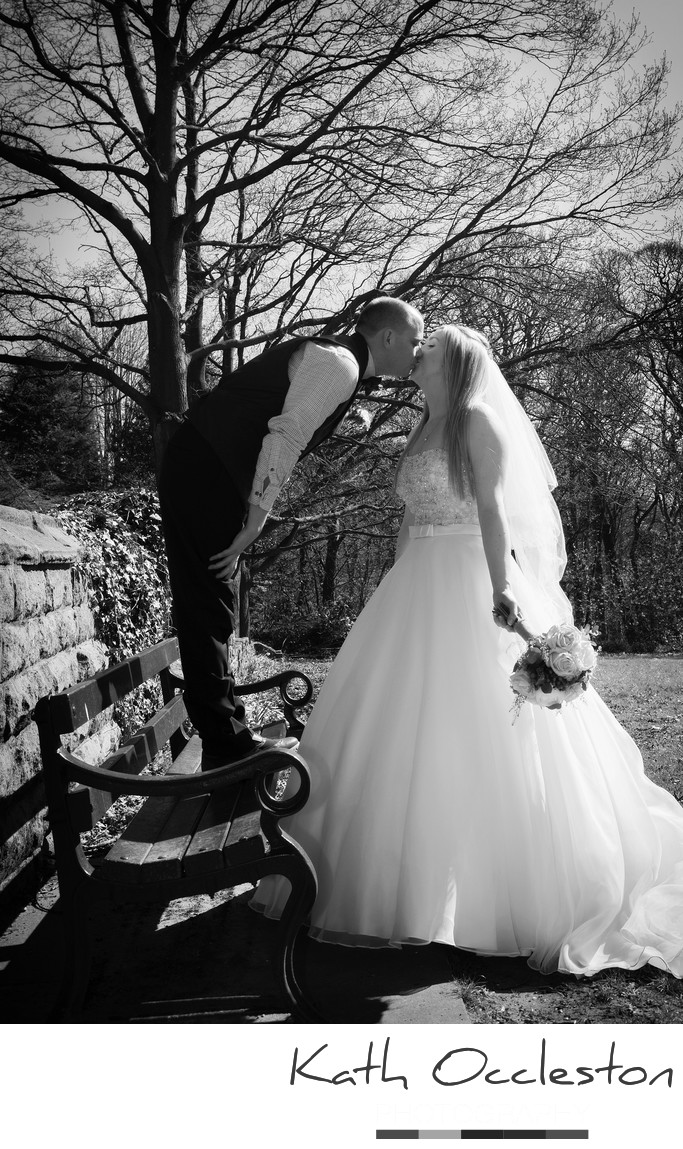 Choosing a photographer isn't easy, or so we thought. Our wedding photographs were always going to be so important to us so when we sat down to plan our wedding, this was one of the first things we looked into and booked - our photographer.
"Having Kath as our wedding photographer allowed us to feel so at ease on our special day, knowing that everything would be taken care of, and it sure was! Kath met us in the run up to our wedding, at our venue, to discuss what we wanted from our day, to get to know us and us her, and to look around our venue with us to see how we could use it throughout the day. This was an added extra that we did not expect! Kath went above and beyond: she was open to our own ideas and was willing to run around us with a sparkler MANY TIMES to create those special shots that were so important to us.
"If you are not sure about your photo opportunities, you're in good hands with Kath. She offers her advice, skills and ideas without making you feel someone is taking over your day. We loved her company, her expertise and her commitment, and if we could re-live our day over and over again, we'd choose Kath Occleston Photography a thousand times over!
Gemma & Kurt
Becky & Steven - St Chad's, Poulton & Chipping Village Hall 12th August 2017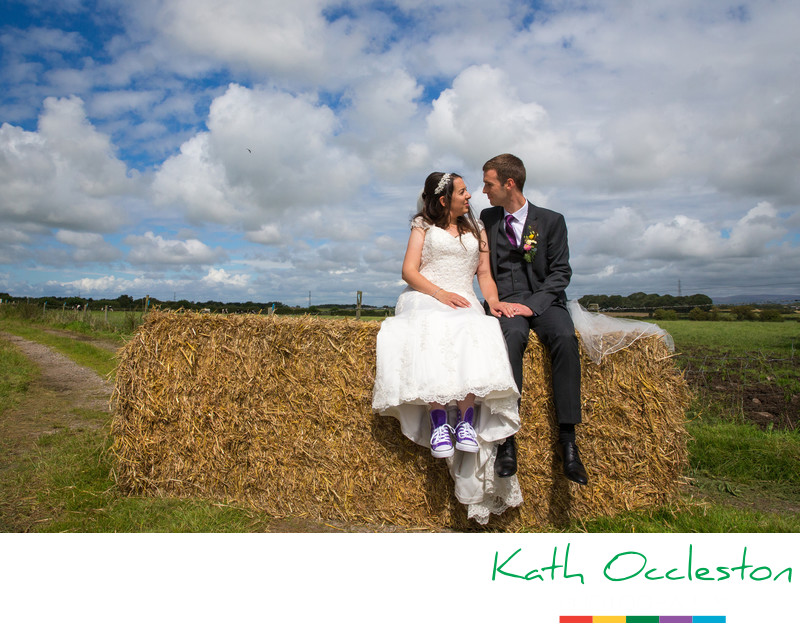 We definitely would recommend Kath and Russell for wedding photography. We met Kath at a wedding fair at the venue where we were having our wedding reception and from the initial meeting I think myself and now husband Steven knew we wanted to book her. When it came to discussing what we would like in terms of packages there was no pressure to go for everything so we opted for an engagement shoot (highly recommend this!) and a full days photography.
In doing the engagement shoot we all got to know each other and just relaxed which I believe helped on the wedding day. Plus you know you will have a great day when you can end up spending 3 hours on the engagement shoot and not even realise where the times gone. If I could have my day again I wouldn't hesitate in asking Kath and Russell to be our photographers. We absolutely adore the pictures and so do our families, now we have the difficult task of deciding which ones to print and display proudly as there are so many great ones to choose from!
Thank you so much. Becky and Steve
Amy & Anthony - Hyde Bank Farm, Stockport 1st April 2017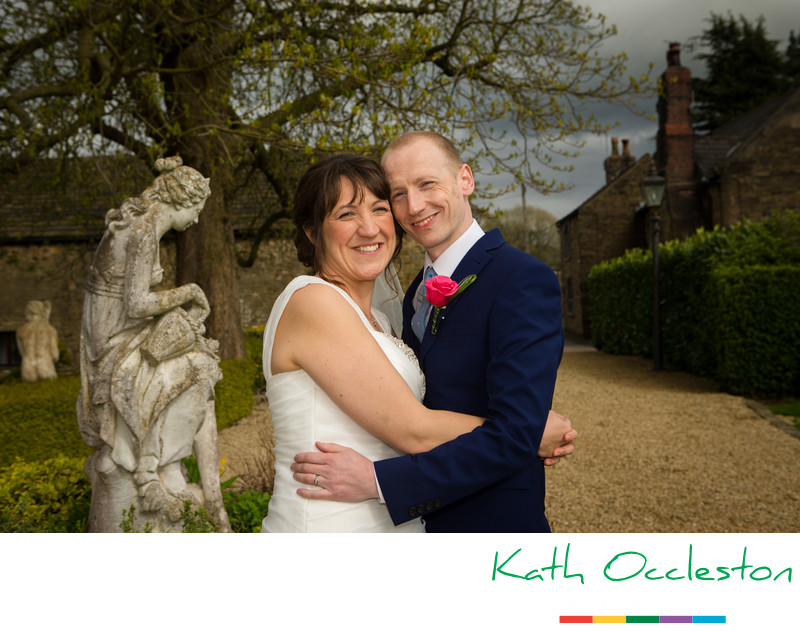 One of the main things that struck us straight away on meeting Kath was her personality and that shone through in all our dealings with her, she was so kind and caring over our wedding day it just made it feel we had another close friend at the wedding and not a photographer. Kath and Russell were so organised and professional throughout, took everything in their stride and were a joy to be around. Our day wouldn't have been the same, the pictures are incredible and we have something that we will treasure for the rest of our lives thanks to Kath and Russell, thank you so so much! x Anthony and Amy x
Paula & Kirsty - Unitarian Church & Viva Showbar, Blackpool, 18th June 2016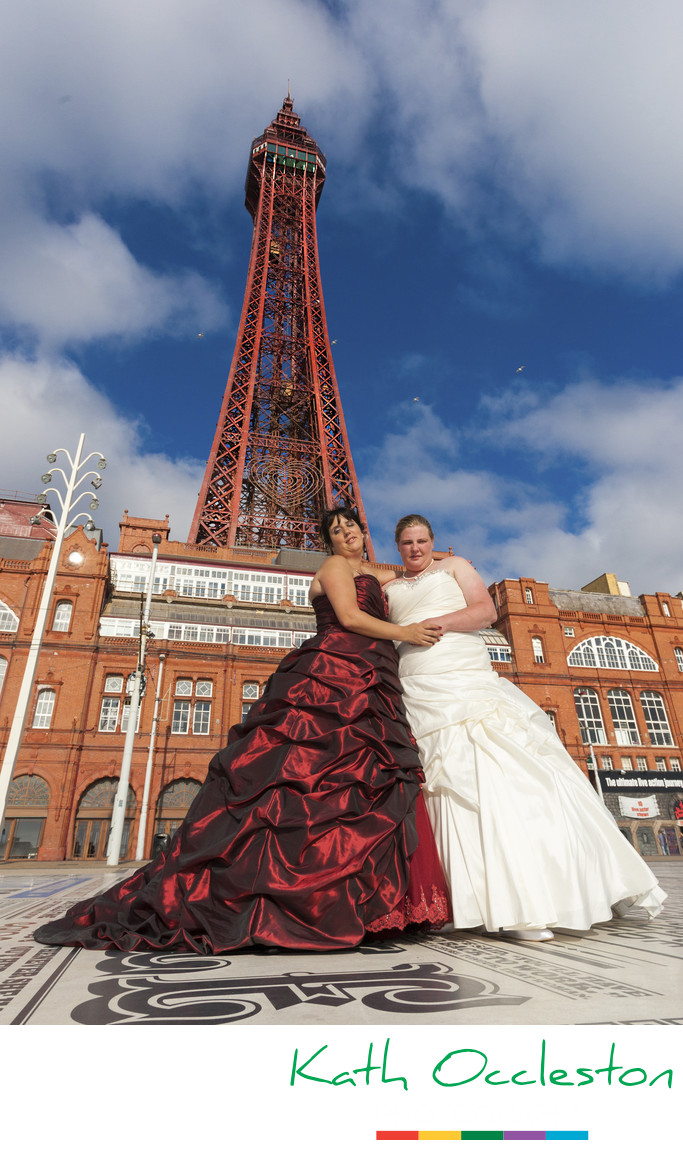 On the 18th June we had the pleasure of Kath Occleston and Russ carrying out our wedding photo shoot. The whole day was amazing and the photos we have are amazing. I would love to find excuses to use them again. Xxxxx Paula
Kath Occleston is a fantastic photographer who I would reccomend to anyone. The photos are the best I've seen in a long time x Kirsty
Ruth & Graham - Rossall Chapel 16th July 2016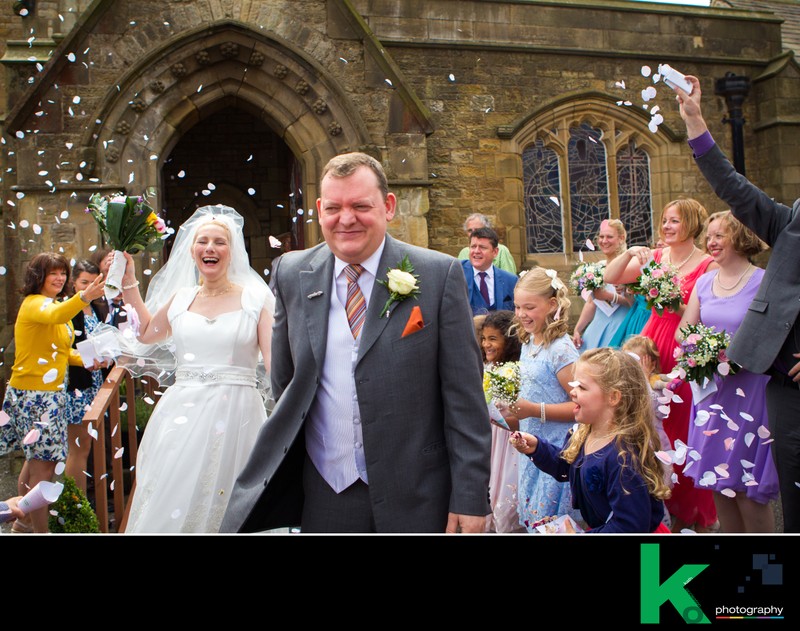 Kath and Russell are amazing, personable, sensitive and creative people who we were privileged to invite to be our wedding photographers. They care a lot about providing high levels of customer service and have always worked hard; taking time to get to know us, sharing their excellent senses of humour and helping us feel at ease during shoots. The effort in the editing/perfecting of all of those photos is astounding; and this is really where you get terrific value for money.
Highly recommended for any Occ-asion (lol)
Nicola & Dean - De Vere Hotel (Heron's Reach) Blackpool 11th June 2016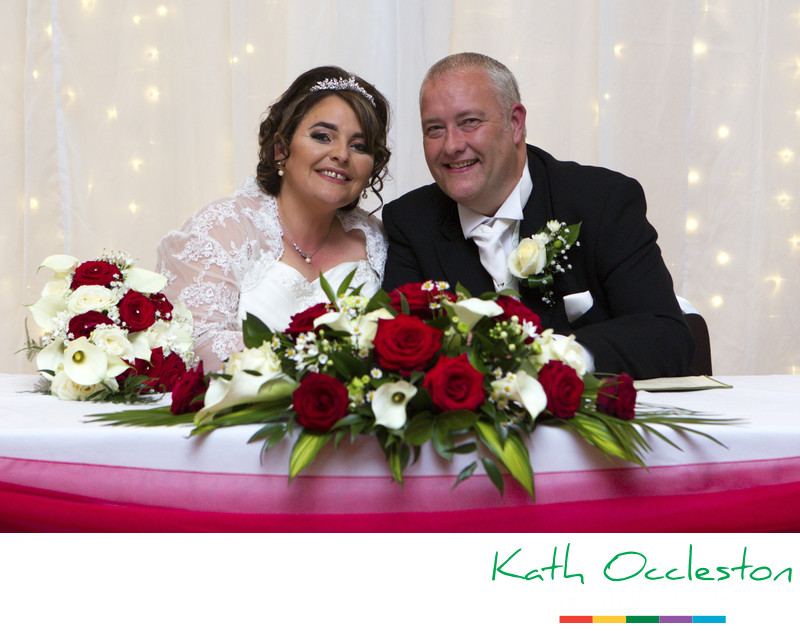 What superb wedding photos we have received! And we got all the wedding photos, album, parent books and disc. They are absolutely perfectly, beautiful and fantastic memories.
Kath has made a fantastic job, credit to her. Trust her to do an incredible performance with professional photography.
Thank you Kath for making us perfect photos for our wedding day xx
Natalie & Steve - Avenham Park, Preston. 3rd July 2015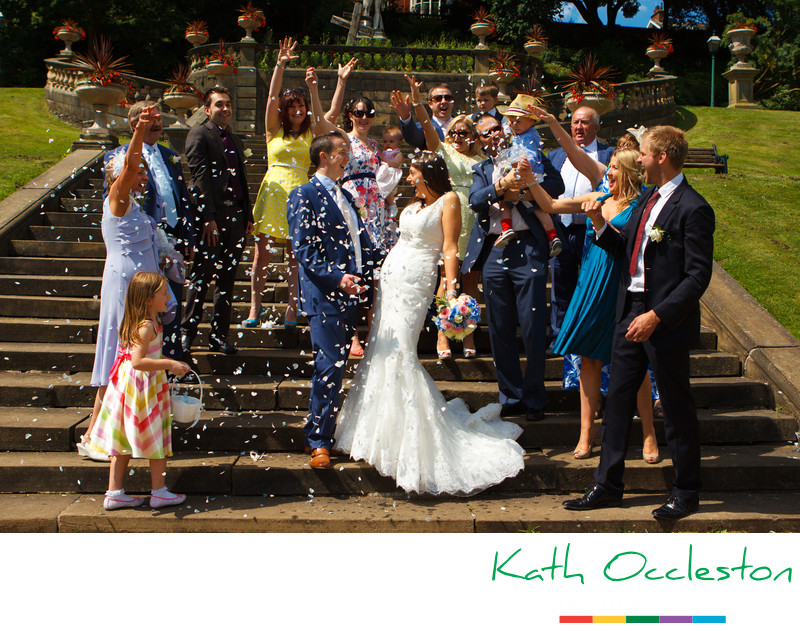 A short note from the Father of the Bride expressing his joy at seeing his daughter's wedding photographs:
Just viewed Natalie's photo set, Amazing!!! Well done, I wish you all the success you deserve. Fantastic.
I don't need a reply, just know that I'm very impressed.
Clare & Andy - Thurnham Hall, Lancaster 4th April 2015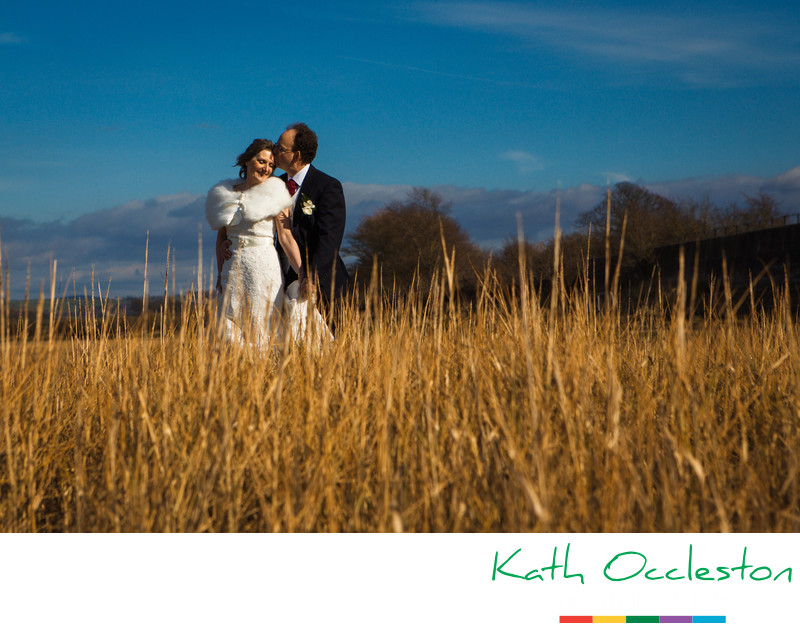 We had tried to find a photographer for our wedding for a long time, and had almost given up hope of finding the right person when we met Kath.
She has been absolutely brilliant from the first meeting, right the way through to the production of the album. She has spent a lot of time, both offering advice when we wanted it, and listening to what we wanted, and to our views. As a result the photos are exactly what we wanted, and we honestly feel that we could not have found anyone better.
Kath, and her husband made us feel relaxed on the day, so we have natural, rather than forced smiles on the photos, and they made it a really enjoyable experience having them taken. We asked for a wide variety of shots, ranging from posed photos in the old fashioned building, to ducklings running around our feet, to landscape photos of us on the nearby salt marshes. Kath and her husband produced them all brilliantly.
No matter what style of photographs you want, or what the occasion is, we are confident that Kath would do a fantastic job.
Alison & Andrew - The Pinewood Hotel, Wilmslow 9th August 2014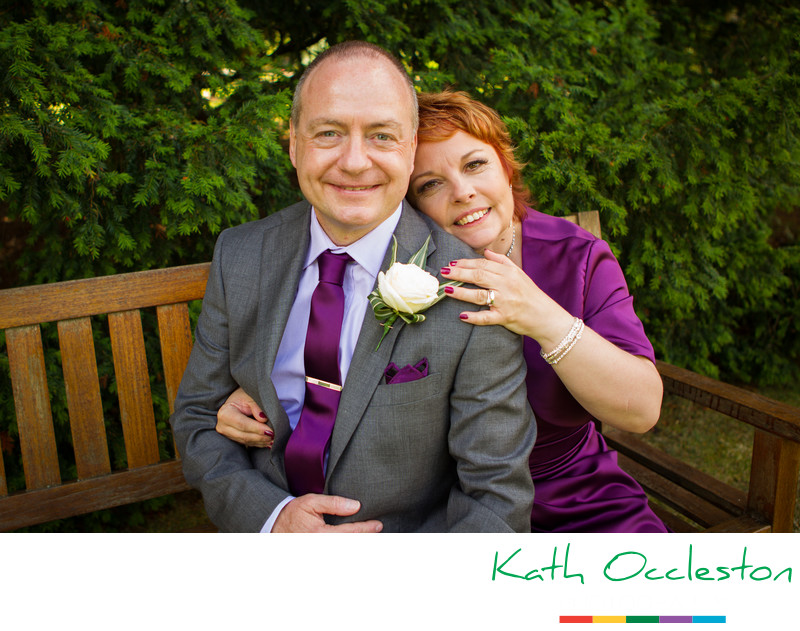 What can we say that will do justice to the service you can expect from Kath and Russell; I think to say we cannot recommend them highly enough for what ever occasion you want documenting on film.
We booked Kath for our wedding in August 2014 after looking at her portfolio on her online website. We were highly impressed with the imaginative photo compositions and the effects used (not over done in anyway). Each album we looked at took our breath away and we wanted the same for our day. We consider ourselves to be just ordinary people but we were made to look very special and glamorous on our wedding day. Our guests were put at ease by Kath and Russell and they in no way intruded on the day in fact we would go as far to say they added to the joy of the day. They mixed and mingled with our guests effortlessly and the beautiful storybook of our wedding plays testament to that. All our family after looking at the album have said they haven't seen anything so beautiful before and like us were highly delighted with the quality of photographs of the day.
Our album is truly treasured and every time we look through it we are transported back to our magical day. If you decide you want to hire Kath for your occasion, let us assure you, you won't regret your choice. Lovely people that do their absolute best for you.
Adele & Adam - The Bridge, Wetherby 17th August 2013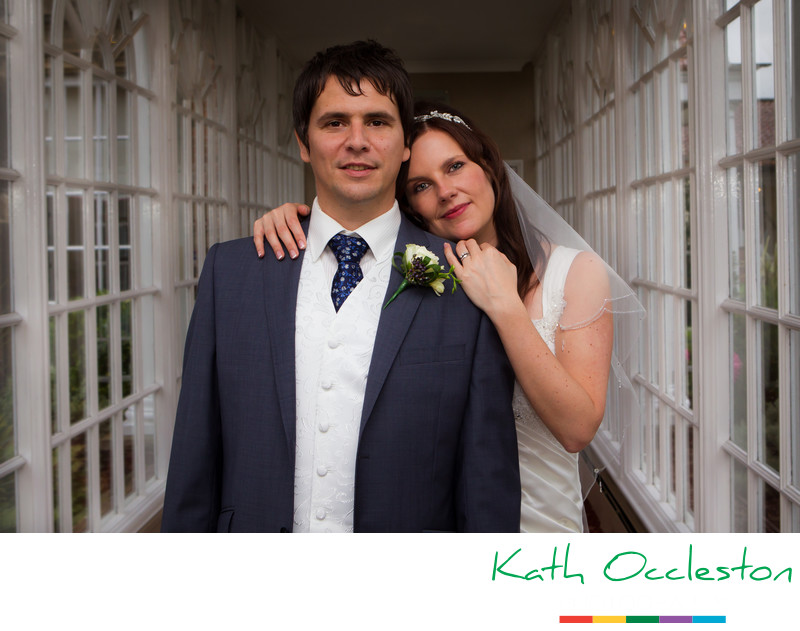 And one from the parents of the Bride…
Eric and I are couldn't be happier with the photographs – it is sometimes daunting and worrying when you commit yourself to rely on someone else's responsibility, reliability and professionalism when it concerns capturing your daughters happiest and most important day of her life. You portrayed the highs, you captured the thrilling, the sombre, the funny and the ecstasy of the day.
The photographs and the album are exquisite and neither Eric nor I or our family and friends have seen such a beautiful portrayal of some stunning photographs.
I know Adele and Adam were nervous about being photographed but you were both the epitome of professionals and indeed friends and you should both be very proud of what you have achieved – for your own portfolio and for producing a never ending story for Adele and Adam. We truly believe we chose wise and we have you - Kath and Russell - to thank for that.
Best Wishes Gillian & Eric (for Adele & Adam 17.8.13)
Adele & Adam - The Bridge, Wetherby 17th August 2013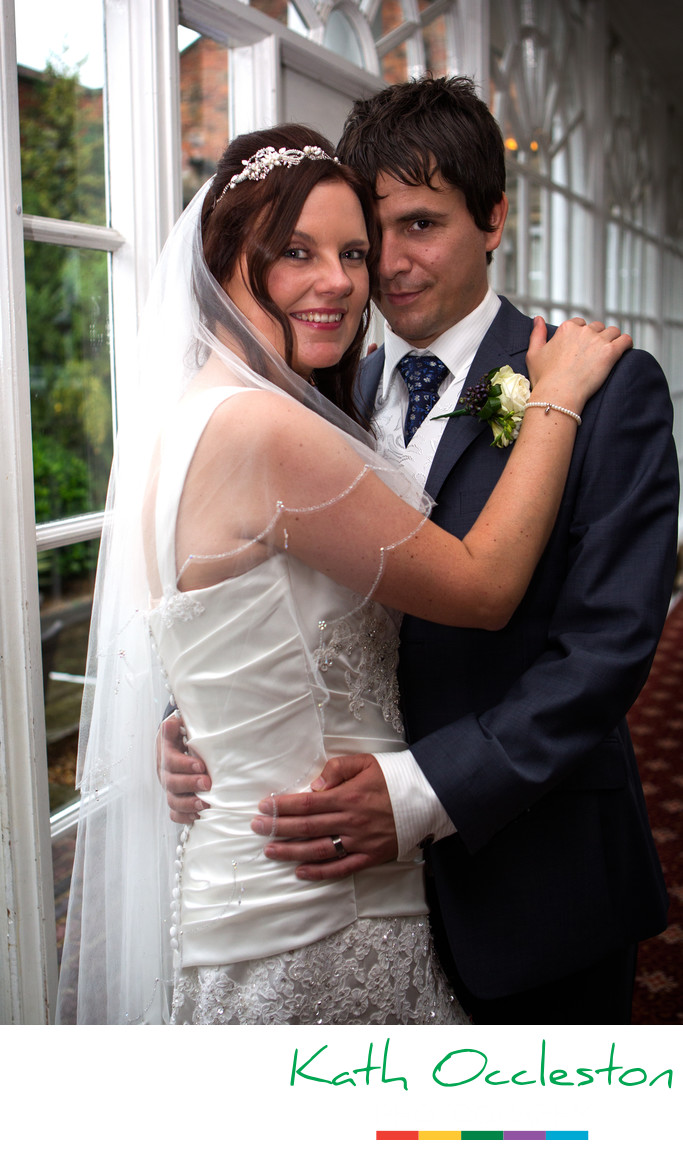 Both myself and my husband were very uneasy about having a photographer on our wedding day as we did not particularly like having our photographs taken, however we also knew that for us to be able to capture our big day we couldn't get married without one.

I found Kath's website and was impressed with her photo's so arranged a meeting with her. When we met she put us at ease straight away, she was very easy going and really down to earth. We were also very impressed with her photographs and the actual albums we could choose from. I have to be honest that when Kath told us that she worked together with her husband Russell it did worry us as we were apprehensive about having one photographer never mind two. I voiced my concerns to Kath and she explained the advanatges of having two. We met with just one other photographer, just to compare what we had been offered really, but Kath and Russell felt like the right choice.

We met with them both a couple of weeks before the wedding at the venue and it really was at that point that we knew we had made the right decision. We felt like we had got to know them just within the time we were there. They asked us questions and gave us advice which we really appreciated. We explained to them how nervous we were about having our photo's taken but they managed to put us both at ease and we left feeling so much more relaxed and really looking forward to seeing them on our wedding day.

Both myself and my husband agree that their presence on the day actually proved to be a calming influence. Russell met with Adam in the morning and took some fantastic photos of him with his best men etc... At the same time Kath was with me whilst I got ready. Having the two photographers meant that they captured both myself and my husband at the same time and it was so good to see the different emotions leading up to the wedding in the photos. Kath was so friendly and yet so professional and she helped to calm all of our nerves which I think is above and beyond the job of a photographer!! They managed to get so many photos without being intrusive and always respected our decisions as to how and when we wanted the photos taken, always asking questions and making sure we were happy. Never once did we feel like they were taking over, it was a perfect balance.

We are absolutely over the moon with the photos and we are so impressed with the album. It was worth every penny and we cannot recommend them highly enough. We honestly cannot fault any aspect of their service from start to finish.

Without any doubt we made the right decision to use Kath and Russell and feel like we have made two new friends and we will always be grateful to them for their help in making our big day the special day it was and for capturing so many happy memories.

Many, many thanks again Kath and Russell
Sarah & Tristan - Burnsall & Appletreewick, Yorkshire Dales 12th January 2013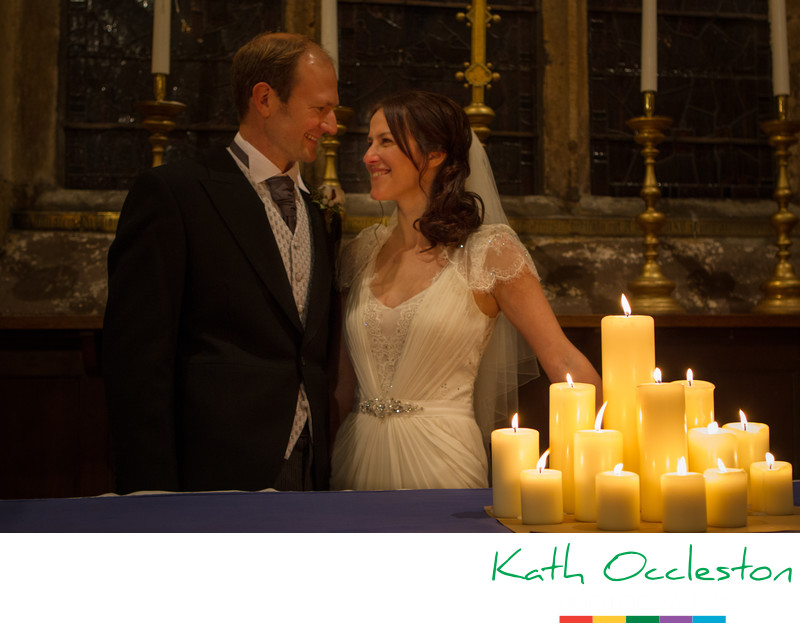 We are so pleased that we chose Kath Occleston Photography for our wedding photos. Both Kath and Russ are brilliant. They're really nice to have around, they don't take over the day, yet work tirelessly to document everything and spend as much or as little time with the bride and groom as desired. Our guests hardly noticed them, yet they have managed to get so many wonderful shots.
They made all the venues look beautiful and composed shots to look serene, when actually we were amongst chaos. Kath has a real talent and can make almost anything look amazing. She has a wonderful eye and doesn't miss a thing.
Thanks to you both for working so hard on our photos. They really are worth every penny. I love them and would ALWAYS recommend Kath Occleston.
Nicola & Darren - Craigmar, Hebden & Burnsall, Yorkshire Dales 20th October 2012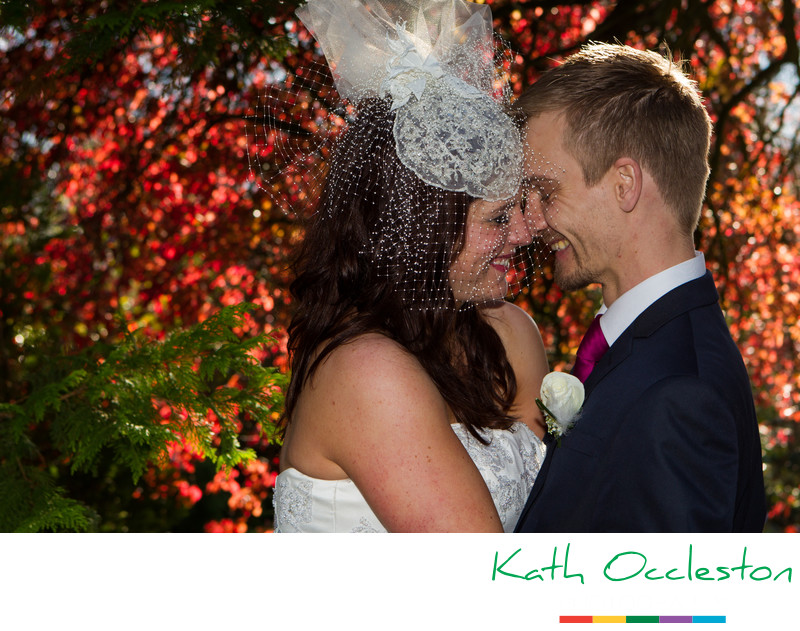 On first meeting Kath we knew we had found our wedding photographer, so professional, friendly and genuinely interested in getting to know us as a couple, it is obvious that you have a real passion for what you do, nothing is too much trouble and you have a fantastic eye for capturing photos that aren't just about posing but show off the surroundings too.
Your professional yet discreet manner was exactly what we wanted and has given us perfect, natural shots as memories that we can treasure forever and having you there all day through to the evening reception was fantastic as the photos of the reception are great fun and show the night off.
We chose to get married at Craigmar with the hope that the weather would be nice enough to get married outside, the sun shone for us and made this happen and Kath definately made the most of the setting, the time we spent as newly weds having photographs taken in the grounds was such an important part of the day, it gave us time to relax, take it all in and enjoy the moment. If Kath recommends getting away off the beaten track even if just for half an hour, take the advice it was worth it and you might even come across a local artist on the way!
We are absolutely over the moon with our photographs, the best decision we made, worth every penny and wouldn't hesitate to recommend you, everyone commented on the day how lovely you were and all of our family and friends love the photos as much as we do.
Lisa & Dave - Aldwark Manor, North Yorkshire 3rd November 2012
We couldn't have chosen a better photographer! Kath's photographs are everything we had imagined, with a mix of natural and posed shots. She captured moments when we didn't even know she was there, which meant that we ended up with beautiful images that captured every moment of the day; from getting ready in the morning to the fireworks at the end. She even stayed after the fireworks to get a picture of my friends and I on the staircase at our venue! She also helped us get ready in the morning as well as taking wonderful photos.
When we got the images we couldn't stop smiling, they are the perfect record of the day and apart from momentos they're all that you have to remember your wedding by, so they have to be good and they are. We couldn't recommend her more!
Rebecca & Anthony - Goldsborough Hall, Knaresborough. 5th November 2011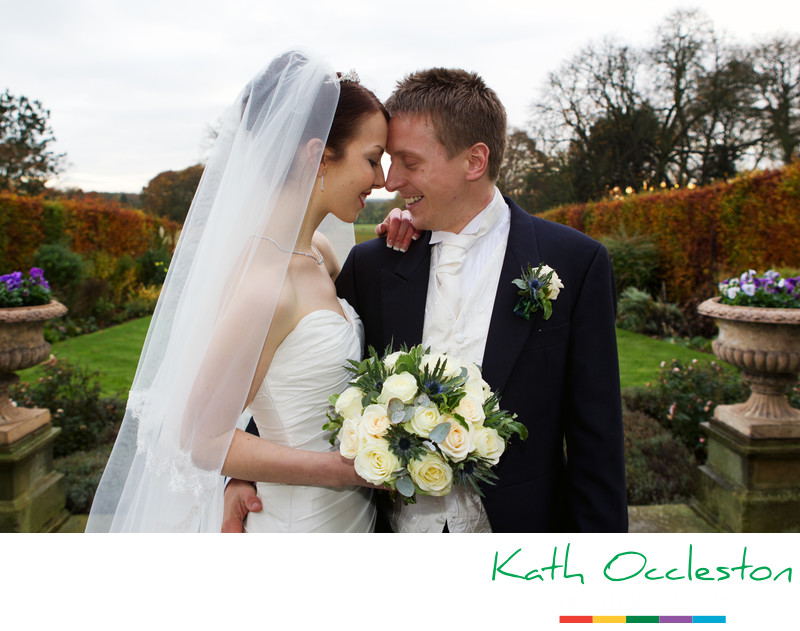 My husband and I met Kath a few months before our wedding and instantly knew she was the one for us, her positive easy going attitude helped us feel at ease and confident about our wedding photography.
On the morning of the wedding Kath arrived as the girls and I were having our hair and make-up done, she was very discreet and unobtrusive not asking us to pose too much but taking very natural shots.
Throughout the day Kath acted with utmost professionalism and we felt very comfortable with her. She was so discreet during the church service and didn't keep us from our guests for too long afterwards. She stayed until late and captured some lovely candid moments during the wedding breakfast and on the dance floor.
We are so thrilled with our wedding photographs and have many around our home, as do our families. They are an everlasting memory of our special day.
We recently had our first baby and Kath came to our home to do a family photo shoot which was much more relaxed than having to go to a studio. These photographs are beautiful and we don't know how we will choose which ones to have!
We would highly recommend Kath as a photographer and would definitely use her again in the future.
Rachel & Rob - The Midland Hotel, Morecambe 8th October 2011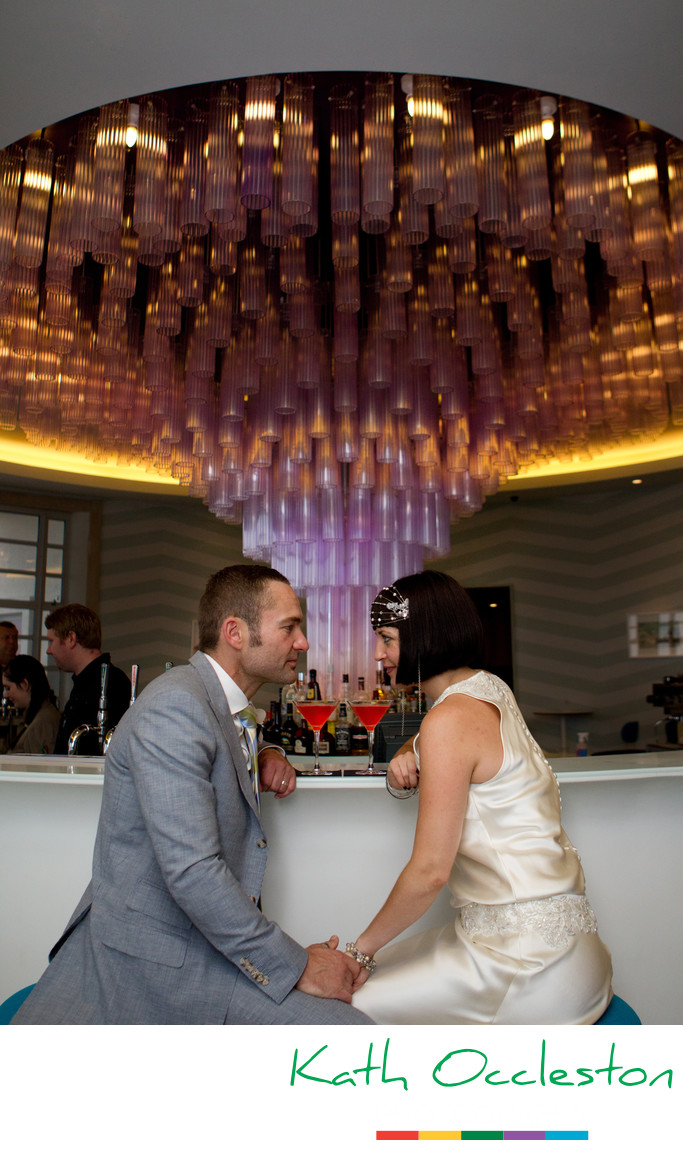 Before Rob even proposed we knew we wanted to have a 30's inspired wedding (I'm a big Poirot fan!) so we were always keeping our eyes peeled for Art Deco buildings. We came upon The Midland Hotel one day when we took a day trip to Morecambe from the Lakes and we were blown away by it's orginal Art Deco features, modern and stylish renovation and excellent staff. I got in touch with Kath because I saw on her website that she had already photographed a Bride at the Midland and I liked the way her photos were natural, artistic and incorporated architecture and the design of a wedding.
When we met Kath and Russell they were so enthusiastic about The Midland Hotel we were sold! We didn't want to spend ages on group shots and asked them to take reportage style photos. On the day they were so supportive, friendly, creative, enthusiastic and non-intrusive. Posing for photos around the building was one of the highlights of the day for Rob and I!! We would definitely recommend them to any couple getting married...
Ruth & Talat - The Midland Hotel, Bradford 16th December 2012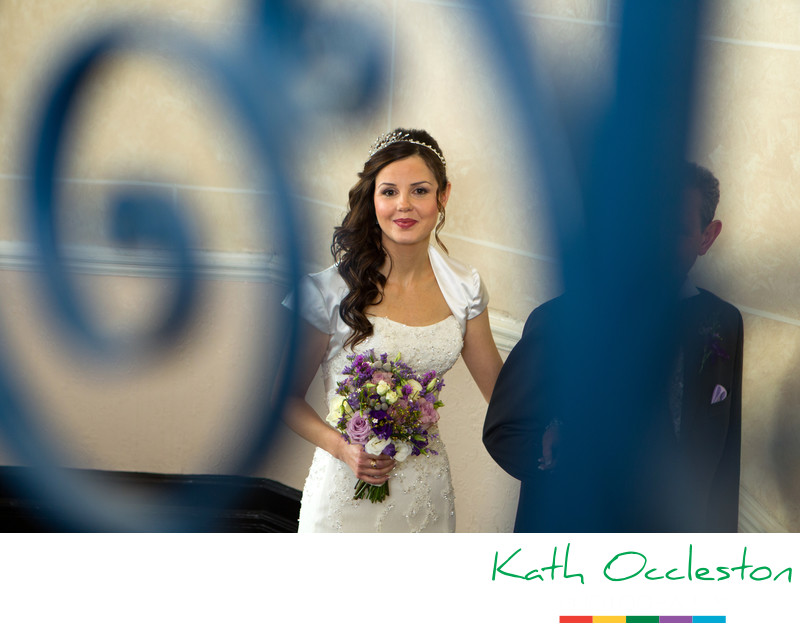 I really enjoyed making plans for our wedding; When I saw the French Ballroom in the Midland Hotel, Bradford with its amazing chandeliers, I knew immediately that I wanted to have our wedding ceremony there. It was also love at first sight when I saw my wedding dress. I knew I wanted a lace fitted dress with pearl and diamante bead work; so 'Sharon' by Sottero and Midgley was the perfect choice. Therefore, when it came to choosing a wedding photographer it was really important to find one that could capture all of these details as well as the all important pictures of our family and friends. This is one of the reasons why we chose Kath and we're really glad we did. On the day Kath took time to take pictures of my dress from the back and close up. She also took some stunning pictures of our ceremony where the chandeliers looked even better than I imagined they could. It was also great having 2 photographers; both Kath and Russell were great at capturing our day from every angle. They cleverly incorporated both formal and informal pictures of our family and friends and helped us and all our guests feel totally relaxed throughout our special day. Its really hard to pick a favourite picture from the day as we have so many; but I love this one - taken as I'm walking down the beautiful staircase with my dad minutes before our ceremony began.
Wendy & Buzz - Swinton Park, Masham 9th July 2012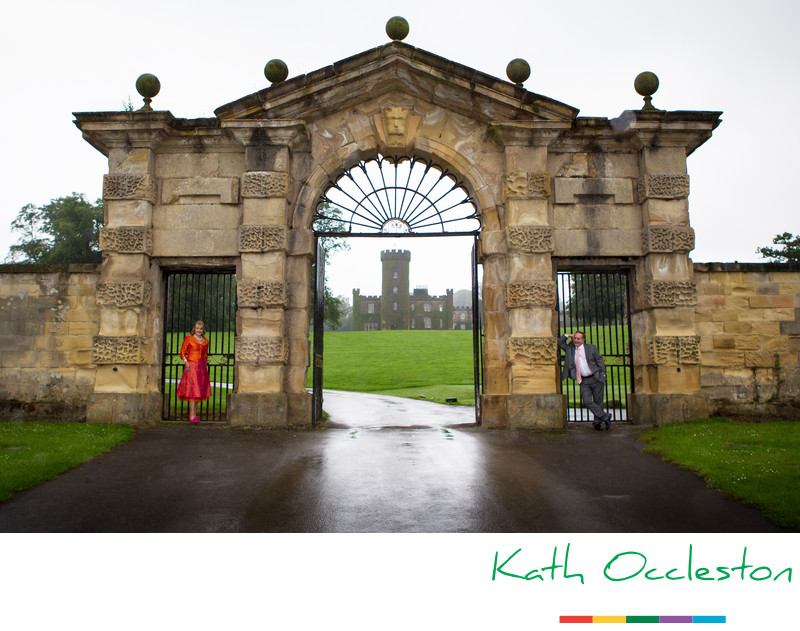 We decided to use Kath for our photos after we visited her website. What swayed us was the way she captured the moment with her unique and artistic style. Throughout the whole experience, from the pre wedding planning to choosing the photos for the album, both Kath and her husband, Russell, made us feel special, we felt relaxed and in control of what we wanted, they guided us through every step and made the whole process enjoyable.
On our wedding day we were not disappointed, Kath and Russell made our day feel just that extra bit special, putting their unique stamp on the day. There was nothing 'Forced' about the day, no 'Forced' smiles, no thinking 'when is this going to end'. Kath and Russell have that natural ability to make the whole day an experience that you don't want to end. The result? Amazing, unique, artistic memories that captured our special day perfectly.
We would highly recommend using them for your special event. Thank you Kath and Russell so very much.
Emma & Matt - Warrington 1st September 2012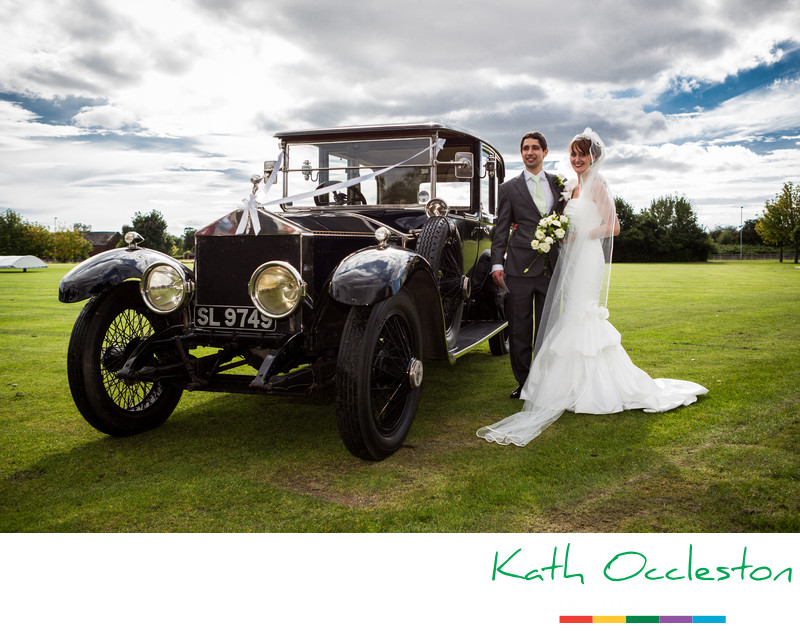 Kath fitted in to our wedding day so well, taking pictures unobtrusively and organising a time for us to be alone and take a few pictures together. We enjoyed having her there just to take part and the photos she took captured the feeling of the day and how much fun everyone had. We had a 'picture walk' between the church and reception venue and Kath included these into our photos which was perfect because they formed such a big part of the day. It's too hard to pick a favourite photo but one of them would definitely be this one.
Catherine & Chris - Rothwell Church & Harewood House 18th June 2011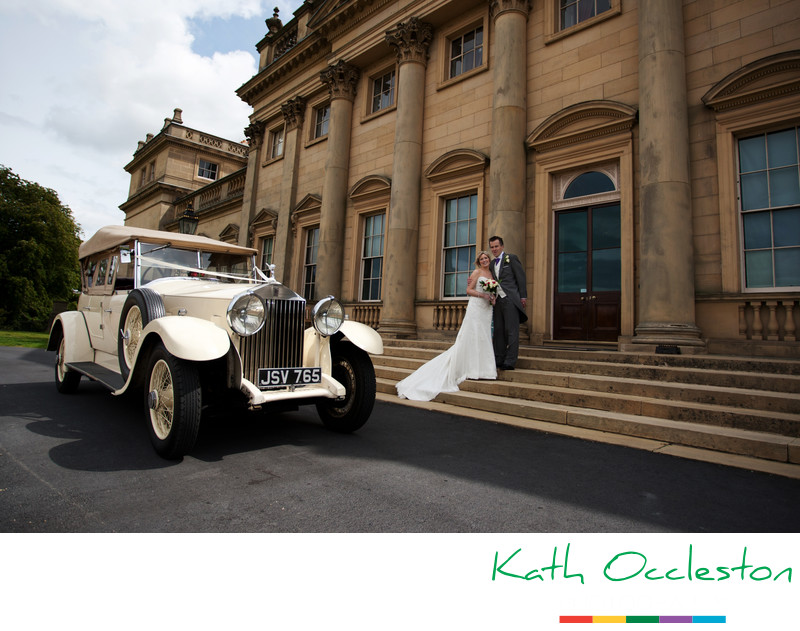 Catherine and I got married in June 2011 and our wedding album is a fantastic reminder of a fantastic day at Rothwell Church and then Harewood House. We have some excellent framed photos around our house also and our Mums have a mini version of our album to show to all their friends, which they love to do.
We were fully at ease with Kath and Russell throughout the day as they had previously met us to find out what we wanted at our home and also met us at Harewood House to find out which shots we wanted. It was obvious that they had also planned how to go about taking our wedding pictures as there were no hitches during the day and the shots that they captured were fantastic.
Having two photographers is a great idea as in the morning, Russell followed me and the boys and then Kath followed Catherine and her friends. Then after the church by having two photographers at our venue, it meant that no shots were missed.
Kath and Russell were also extremely easy to get on with it and were very interested in ourselves. They were recommended to us and we would highly recommend them to anyone in the future.
Beth & John - Walton Hall, Waterton Park 29th July 2011
We just wanted to say a big thank you for helping us to make our wedding day so special. You made us feel at ease both before the day, with all of the time you spent talking us through things, and on the day itself. Lots of our guests have since asked for your details and commented upon how impressed they were with you. After hearing some horror stories about wedding photographers, it took John and I a long time to make the decision (and to find someone we could both agree on!) and we were not disappointed. I'm not sure how you managed to capture so much without us even realising, from the hairdressers, to John's preparations with his best man, to the guests arriving at the church, but you did! We can now look back at the photographs and take in everything we missed on the day. It was brilliant to know we had you for the full day (basically as long as we wanted) so didn't feel at all under pressure to cram in hundreds of photos in an hour. This meant we could actually enjoy the day and spend time with our guests.
Thank you too for giving us regular updates on our album once the day itself was over. It was incredibly difficult to choose the photos we wanted in there as they were all so good, but we were so excited to receive the album and are thrilled with the results. Thank you again.
Carole & Mark - Manchester 27th August 2011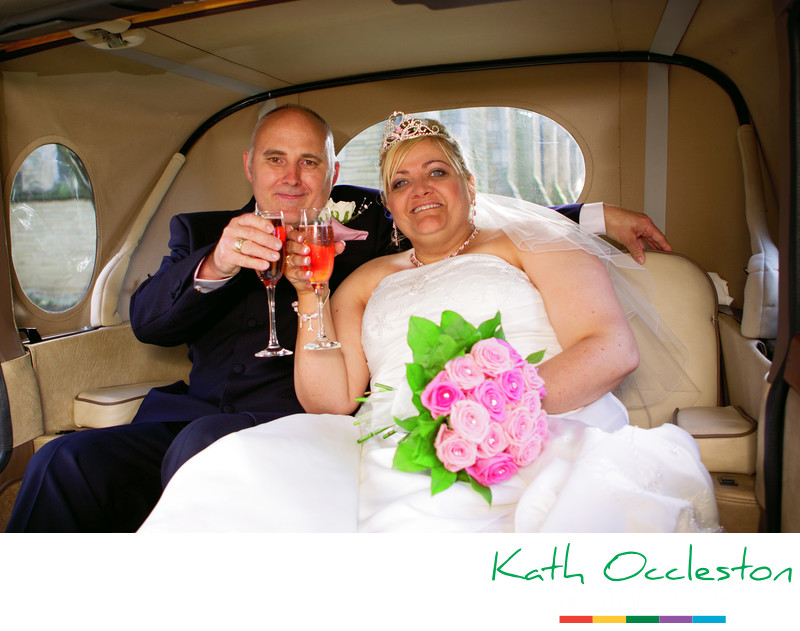 When myself and my h2b decided to have Kath as our wedding photographer, it was the best decision we ever made (except for getting married of course). Kath & Russell made everyone feel so at ease especially myself and Mark (we hate having our photo taken haha) nothing was too much trouble for them. From the minute Kath arrived at my house I felt so at ease with her, she just mingled with everybody while doing her wonderful work. When I saw the photographs I was speechless and amazed. Out of the 600 photos taken we can honestly say there isn't a single one that we don't like so if you want a professional, friendly and caring couple to cover your special day, then Kath & Russell are the ones to do it without a doubt.
Jennifer & Jonathan - Burythorpe House, Malton, York 28th May 2011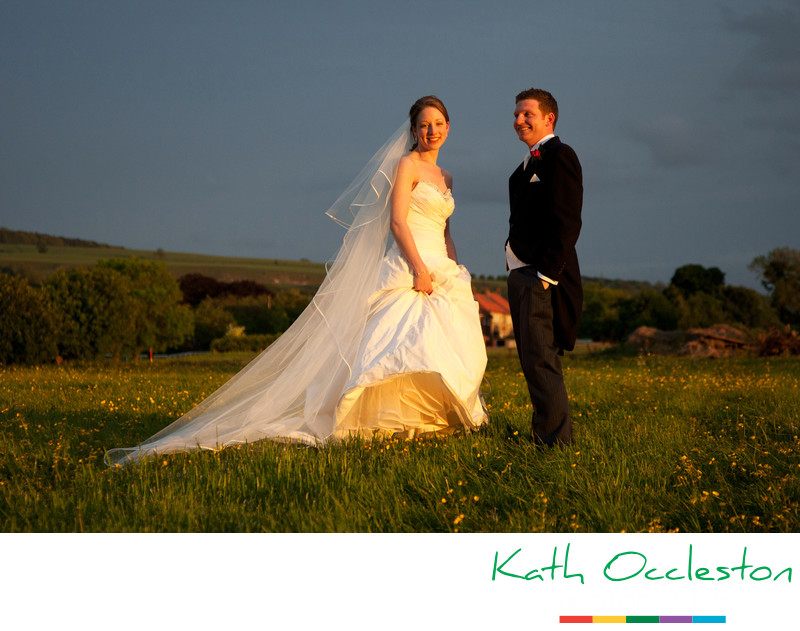 Thank you so much to Kath and Russell for capturing our wedding in pictures! With their obvious enthusiasm for photography, we knew immediately that we wanted to work with them - when they came to meet us at our venue they seemed almost as excited as we were to be talking about our big day! On the day they made us feel at ease, fulfilled our brief, blended with the guests, and managed to capture some truly special moments without being obtrusive. 18 months on and we have finally got around to sorting our album (!), it makes us smile every time we look at it because they have captured all the laughter and fun we had and it only makes me sad that we can't do it all over again!
My favourite picture is the one of us in the field - this one and the one of us walking along the church path before all the other guests come out.....but also the confetti one!! Too many favourites!!
Helen & Craig - Bagden Hall, Huddersfield 8th January 2011
We first met Kath when she was introduced to us by the original photographer we had approached for our Wedding, as she wasn't going to be available for our day. And I have to say, from that moment on we never looked back! We loved all of the ideas Kath shared with us when we met her and loved her portfolio too. There were lots of nice touches leading up to our big day including a pre-wedding shoot at the venue to get ideas on the best positions for shots, and to check what daylight would be available given that it was winter. It was there that we met Russell, Kath's husband, who helps out on shoots and takes some photographs himself, what a great time we had with both of them making us feel really comfortable in front of the camera. We kept in touch over the few months leading up to the Wedding and became friends, we even invited them sit down with us at the Wedding Breakfast! They were so generous with their time, being with us for the early morning preparations and then all day up until the end of the first dance. The whole day went fantastically well, a special thanks to Kath for taking the most fantastic pictures in sub-zero temperatures and to Russell who held on to my coat between poses and more importantly managed not to spill our drinks!
We were so excited to return from honeymoon and see the amazing slideshow of our Wedding images when Kath and Russell came to present them to us along with a disc in a personalised presentation box, another nice touch.
If you need an amazing photographer for your Wedding then look no further…you have found the best!!
Sarah & Chris - The Rock, Halifax 26th March 2011
We can't thank Kath & Russell enough for the fantastic photographs they captured of our Wedding Day. From our first meeting they made us feel comfortable that they would create the perfect memory book for us and they certainly did that. Their non-invasive style of photography captured moments we would otherwise forget alongside the posed photographs we asked them to take. Perfect memories of a perfect day.
Carol & Graham - Astley Hall 23rd April 2010
From meeting Kath in our home we felt at ease confident and happy. Kath is not only very professional but has the ability to get along side people of all ages and make them feel comfortable. Kath came to the venue previous to us getting married and spent time looking at all angles of possible photo shoots on the day. On our wedding day Kath came to our home and took natural photos of us all getting ready. She made it fun and we felt really relaxed. Kath followed us to Astley Hall and our wedding photos are amazing. Kath took some traditional photos but we loved her uniqueness as well in the photos Kath took. Nothing was to much trouble and Kath made us all feel relaxed. Kath then came to the reception and carried on into our reception at night.
When choosing our photos it was impossible to choose only a certain amount as there wasn't one we wouldn't have chosen. It was good being able to revisit the website as well with the option to order more in the future. Kath helped make our day so special and thank you for capturing it for us on our special day.
Clare & James - Burn Hall, York 24th December 2010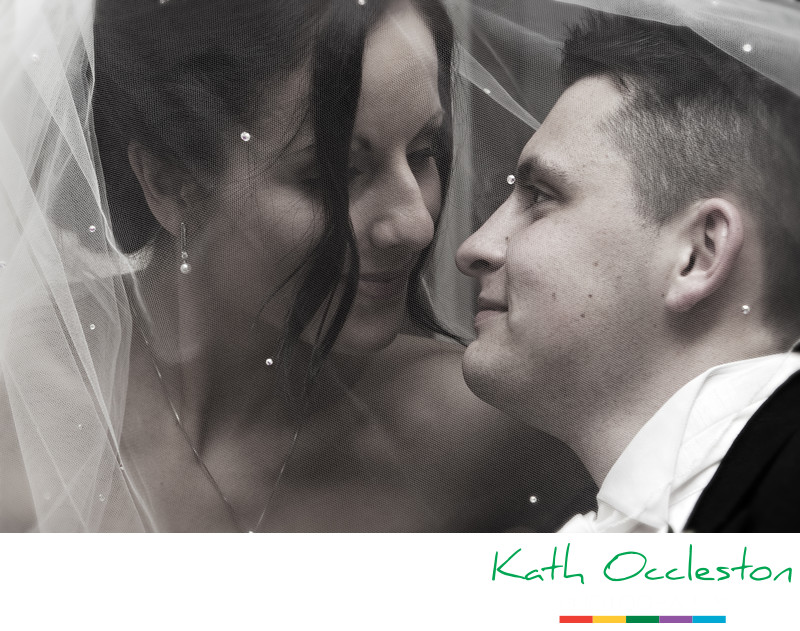 Thank you for doing such a fantasic job on what has to date been the most special day of our lives. You managed to capture every single moment on camera and we will treasure these memories forever. You & Russ made us and all our guests feel completely at ease and we have yet to attend a wedding where another photographer comes anywhere close. The finished album was beyond all expectations, high quality and really does tell the story of our day from start to finish. We have and will continue to recommend you to anyone and everyone!
Tracey & Lee - The Great Victoria Hotel, Bradford 11th September 2010
Lee and I were married on 11th September 2010 at the Great Victoria Hotel in Bradford. This was the 'second time' around for us both and as we are not exactly 'spring chickens' getting the right photographer was a key point in our wedding planning.
In all honesty Kath was not on the list of 3 photographers to meet with and was actually brought along by the heavily pregnant photographer we had initially contacted. This proved to be a great stroke of luck for us as from that very first meeting we totally hit it off with her and without very much effort from our side Kath 'got us' and totally understood our requirements.
The brief we gave for our big day was probably rather vague as formal shots were not something we were very keen on. Despite the lack of instruction from us Kath did a truly amazing job and managed us all fantastically getting the very best from us and our guests without any additional pressure. How she managed to be in the background and give us such wonderful photographs is a mystery to us.
I would have no hesitation in recommending Kath's work to anyone and would end by saying that we met her as a photographer and now view her as a friend.
Lucy & Alex - The Midland Hotel, Morecambe & Leighton Hall, Carnforth 7th August 2010
Kath and Russell provided an excellent friendly service. They really got the most out of the venue with their creative, fun approach.